And now for my rant!
(because I can)
I had some problems with our previous guestbook at Lycos and had lost everything except my user name information. I couldn't log-in and edit or delete entries so I contacted customer support. Support usually indicates help... I have to say without a doubt they were the most USELESS bunch of people I've ever encountered. Needless to say they wouldn't help me recover my account password because I couldn't supply EVERYTHING information wise from when I joined back in the days of the 486 CPU!?
WTF!?
Anyway I have lost all my guestbook entries and choosen to move on giving them credit where credit is due....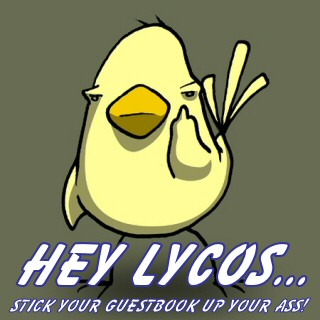 Don't bother wasting your time with these a**holes!