Main Page

IH Scout History

IH Information & Faq's

Technical Information

Chief's Tips

Chief's Parts list

IH Scout Collectibles

Photo Gallery

IH Scout Oddities

IH Links

IH Related Forums

Scouts in Media

Scout Clipart

SouthWest Scouts
1980 Hurst Prototype
Shawnee Scout
---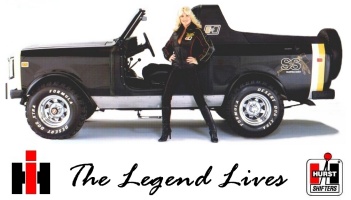 Before the demise of the Scout occurred there was much effort and prototyping being done for the 1981 production model and variations. In 1980 one of the IH projects involved working closely with the Hurst Performance Reasearch group to design what was to become known as the Hurst Shawnee Scout. The prototype was based on a 1980 Scout II chassis with a Terra bulkhead, 345 V-8 4 barrel, automatic transmission and a 3.54 gear ratio. This was then sent to Hurst for further development. Hurst built 3 of these special vehicles and placed a dash plaque on each indicating "Hurst Special Vechicle Limited Editon #____".

#001 went back to the IH Scout division.
#002 seen below
#003's whereabouts are unknown.

"Click thumbnails to view image"
All images courtesy of Scott and Nancy Shackelford
© Binder Blues
Last Updated: